Have you decided to change out your door hardware but trying to save money wherever you can? I did just that (had awful polished brass levers I decided to change out). But its not just the knobs, its the door stops and hinges, too. I decided to try to paint the hinges first (thinking why not try, if it looks bad you can just replace them after all). First hinge and I loved it. Saved lots of money and took less time than unscrewing and rescrewing 6 screws per hinge on the 28 doors that are in my house (almost 100 hinges and 1,000 screws!). I didn't even have to tape off because there is a natural break between the hinge and the wood. You can see by the two pictures below that lighting affects the look of the color, inside a home without a camera flash they look dark like the bottom one.
The product I used it my very favorite oil rubbed bronze "look" paint. It's Modern Options Sophisticated Finishes in Blackened Bronze. I get mine at Michaels and its not in the craft paint section. It's in the metal paint section near the unfinished wood in my store. Call around before you drive around. It's super easy to use and a great deal based on how long it will last you. I've probably painted 100 things in my house with it (in addition to the hinges). Instead of replacing all of my shiny brass, I just painted it! This is there website so you can see all the finishes they have
http://www.modernoptions.com/
and here is what the product/finish looks like (blackened bronze is on the left).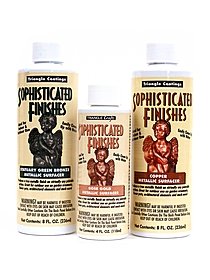 I prefer a "pouncing" or "stippling" method of painting vs. brushing, as it looks more textured with a natural or modeled finish vs. obvious paint stroke lines. If you want a flat finish you'll probably need two coats and a good brush. I literally use kids paint brushes from the dollar store (cut a little if they are too long to "pounce".
One replacing hinges note, my friend replaced her hinges vs. paint them and had a heck of a time with several doors closing weirdly once she replaced them (thirty minutes per door trying to figure out which hinge was making them close tilted).
Regarding the doorstops, I found that you can paint the door stops, but you need dark caps (and those cost just as much as new doorstops on ebay, so I just went the new doorstop route). That might change as time progresses and everyone starts needing new dark doorstop caps. I bought the same kind of door stops I had in the darker color, so I could just unscrew the brass and screw in the new ones super fast (no taking of the screw from the wall).
I also tried painting the door handle itself since I liked what I had, but it just chipped really quickly no matter what kind of paint I used (mine were shiny polished brass, I sanded an extra piece I had and painted it will primer and metal spray paint. I also tried metal art paint and enamel and none worked. Finally had to go full knob replacement. I did find a great affordable place in Dallas that I will share on a later post.
Good luck!